Thanks to the Apple Watch, smartwatches have become akin to having a doctor right by your side 24/7 to watch for certain symptoms. Many wrist-worn wearables will now measure your heart rate and will warn you if  your heart beats too fast or too slow. And even this writer's Xiaomi Smart Band 7 will measure my oxygen saturation (SP02). This tells me how much oxygen my blood is carrying as a percentage of the maximum amount.
Many smartwatches will even conduct an electrocardiogram (ECG) to scan for abnormal heart rhythms. The Pixel Watch is one such watch, but it only scans for Atrial fibrillation (AFib) when the user requests a scan. It will not send out Irregular Heart Rhythm Notifications while you're sleeping or not moving. That would seem to be a big fail on Google's part.
Fitbit models offer health-related features not found on the Pixel Watch

According to 9to5Google, the Irregular Heart Rhythm Notifications are not only available on demand for users of several Fitbit models, they also do an ECG scan when the user is still or sleeping. Those models include the Sense 2, Sense, Versa 4, Versa 3, Versa 2, Versa Lite, Charge 5, Charge 4, Charge 3, Luxe, Inspire 3, and Inspire 2. Why shouldn't the ability to scan for the user's heart rhythm when he/she is still or sleeping be included on the Pixel Watch? After all, Google owns Fitbit.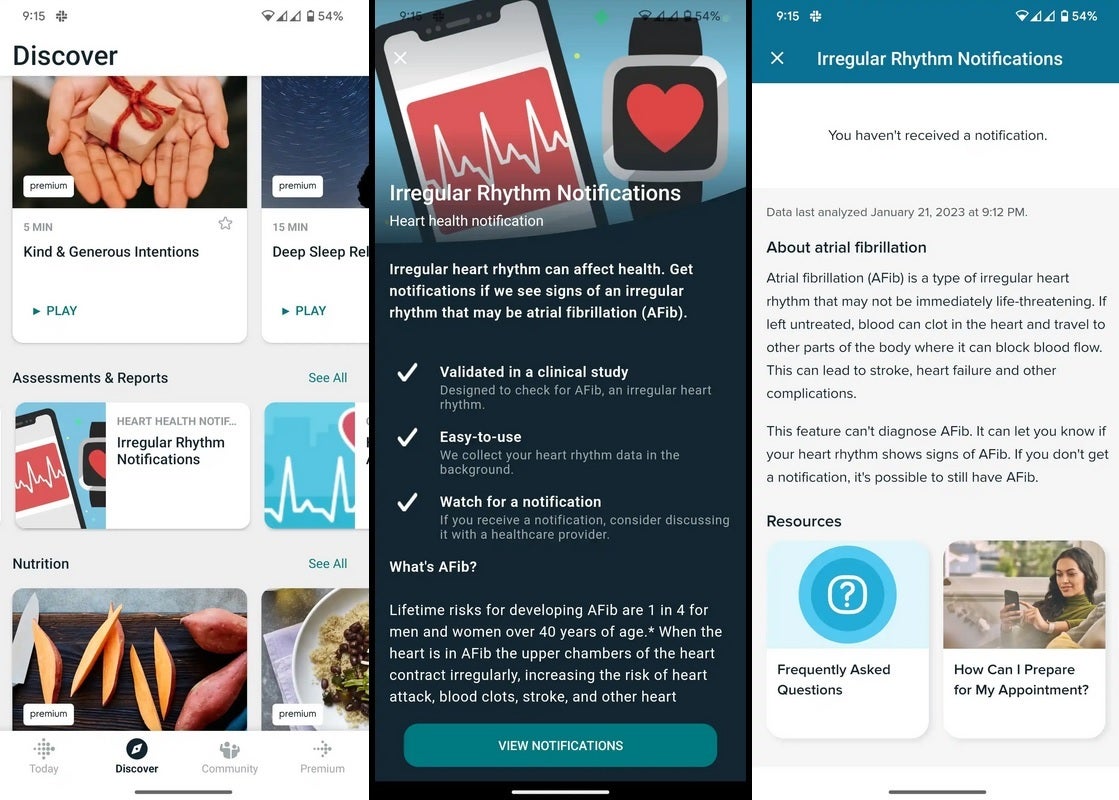 Some Pixel Watch users are seeing these pages in the Discover tab of the Fitbit app. Image credit 9to5Google
Well, it turns out that some Pixel Watch owners are seeing pages in the Discover tab on the Fitbit app that explain the Irregular Heart Rhythm Notification feature, how it works, and what it means. One page gives the date and time of the last scan and reveals whether a notification was ever sent out to a specific Pixel Watch owner.
At least one Reddit subscriber with the Pixel Watch has spotted the continuous scanning for an irregular heart rhythm. Most Pixel Watch units still do not support this feature so either it's a bug or Google is doing some testing.

We should also point out that while the Pixel Watch can get SP02 readings, this feature has yet to receive FDA clearance which means that it is disabled at the moment. And while the timepiece will measure your heart rate, it won't notify you if the rate is too high or too low. This seems like a very Google thing to do; after all, my $45 Xiaomi tracker will alert me when my heart rate exceeds a range that I entered on the device.
Apple is now in a race to develop the Holy Grail of smartwatch health features

More health-related features could be coming to watches in the near future. For example, the Huawei Watch D will take your blood pressure and Apple and Samsung are both reportedly working on the holy grail for smartwatches. That would be a non-invasive method to track blood glucose readings that diabetics use to get an instant reading of their blood sugar levels.
Currently, diabetics must draw blood three or more times per day, put the blood on an expensive disposable test strip, and put the strip in a glucometer to find out what their blood sugar reading is. It's a painful and expensive test since the strips are used once and discarded.
Monitoring their blood glucose levels is important to diabetics because the reading is used to compute the dosage of insulin that they inject before eating a meal or snack. While there have been several alternative methods, a company called PK Vitality is developing the K'Watch which it hopes to release next year priced at $199.99. This wearable will painlessly measure the user's blood sugar and inform him/her with a subtle notification if his blood sugar is too high (requiring insulin) or too low (requiring the consumption of sugar).
With over 200 million insulin-dependent diabetics in the world, this is a huge market and Apple now has a clock counting down the time it has left to be the first to offer painless, non-invasive blood glucose readings for the Apple Watch. Either Apple offers such a feature this year or it risks losing the advantage of being first in such a huge market to the K'Watch.