Last year was a rough one for Samsung Foundry. Not only did a partnership with AMD failed to bear fruit, but the proprietary Exynos 2200 chip that powered the Galaxy S22 in some markets also had to be throttled to prevent overheating issues, prompting an apology from Samsung CEO JH Han. This year's Galaxy S23 range will be powered exclusively by the Qualcomm Snapdragon 8 Gen 2 and contrary to what earlier rumors had said, it will also not be manufactured by Samsung.
Samsung doesn't just design chips, it also manufactures them, and lately, it hasn't been doing a good job with either. So, even though it was a relief to hear that all markets will get Snapdragon-powered Galaxy S23 phones this year, there were concerns that the chip would be held back by Samsung.
The Snapdragon 8 Gen 1 was manufactured by Samsung and it had thermal issues. Its boosted version, the Snapdragon 8 Plus Gen 1 exhibited none of the problems of the Gen 1, likely because it was made by TSMC.
Leaker RGcloudS, who is relatively new on the scene and suggested back in November that the Galaxy S23's chip would be made by Samsung, has walked back the tweet and now says that the chip will be produced by TSMC.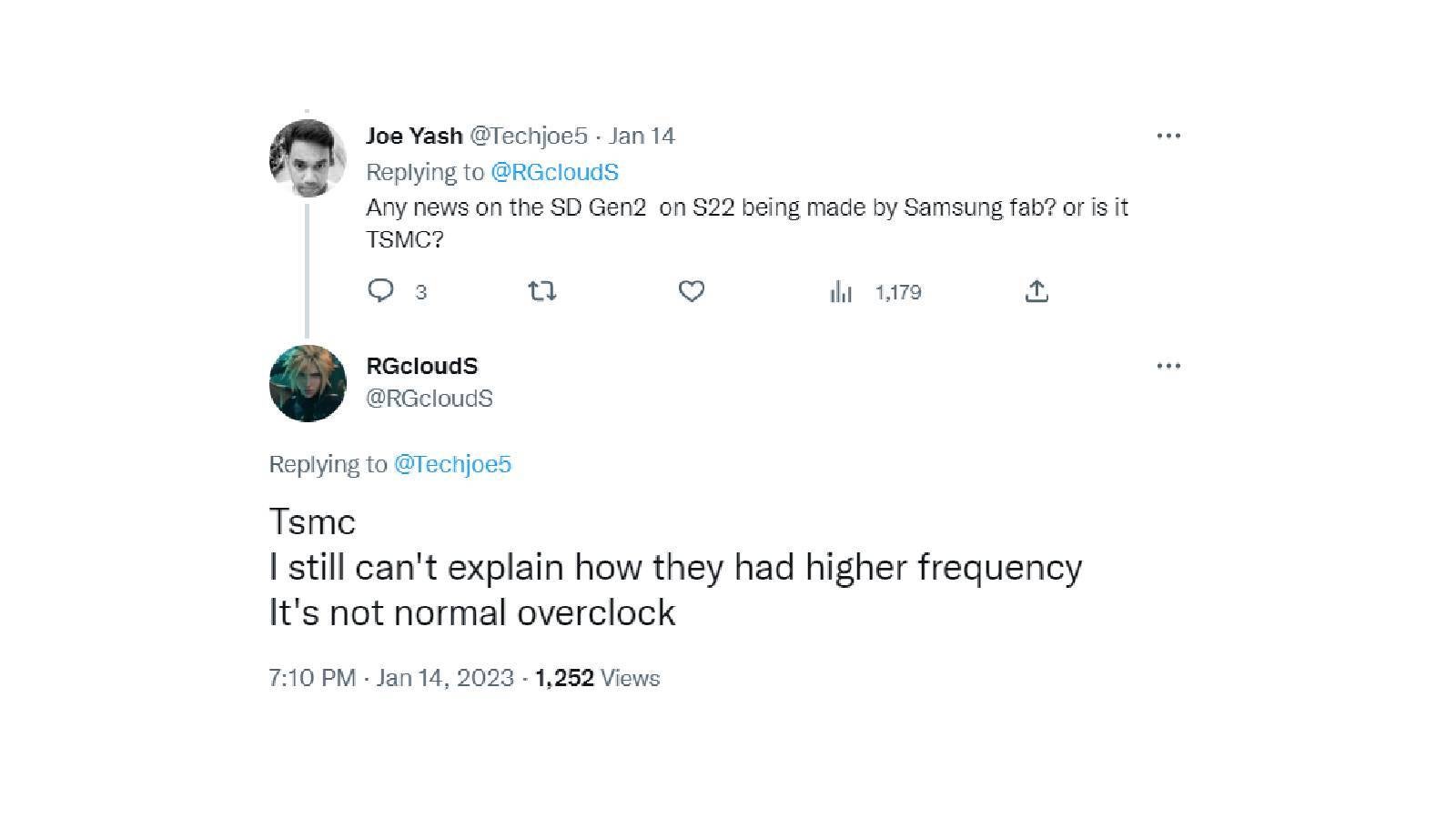 Tipster claims the Qualcomm Snapdragon 8 Gen 2 Mobile Platform for Galaxy will be made by TSMC
Benchmark results indicate that the Galaxy S23 will be a lot faster than the S22 and its GPU performance might be better than iPhone 14 Pro. Android phones have traditionally trailed behind iPhones in benchmarks but Qualcomm has begun to close the gap and a custom Galaxy S23 chip may narrow the gap further.
We shall find out more on February 1 which is when Samsung will formally unveil the Galaxy S23 series. Registrations are already open and earn you free credit for use towards purchases.