You might've already heard, but the OnePlus 11 is already out in China and is quite impressive. Even though there was little doubt to be had, we were able to confirm that the OnePlus 11 will also make it to the US Market in February.
Even though we don't have any reason to doubt the successful transition, sometimes smartphones that have already been released in China do see slight variations In specs like RAM and storage configurations. But fans can finally let out a sigh of relief, due to a report from MySmartPrice on an alleged final configuration for a global version of the OnePlus 11.
Once again, we've got the benchmark database of Geekbench to thank for this reveal, as through it the specs of the OnePlus 11 global variant have made their way online, where the smartphone is listed under model number CPH2451.
What Specs will the OnePlus 11 global edition have?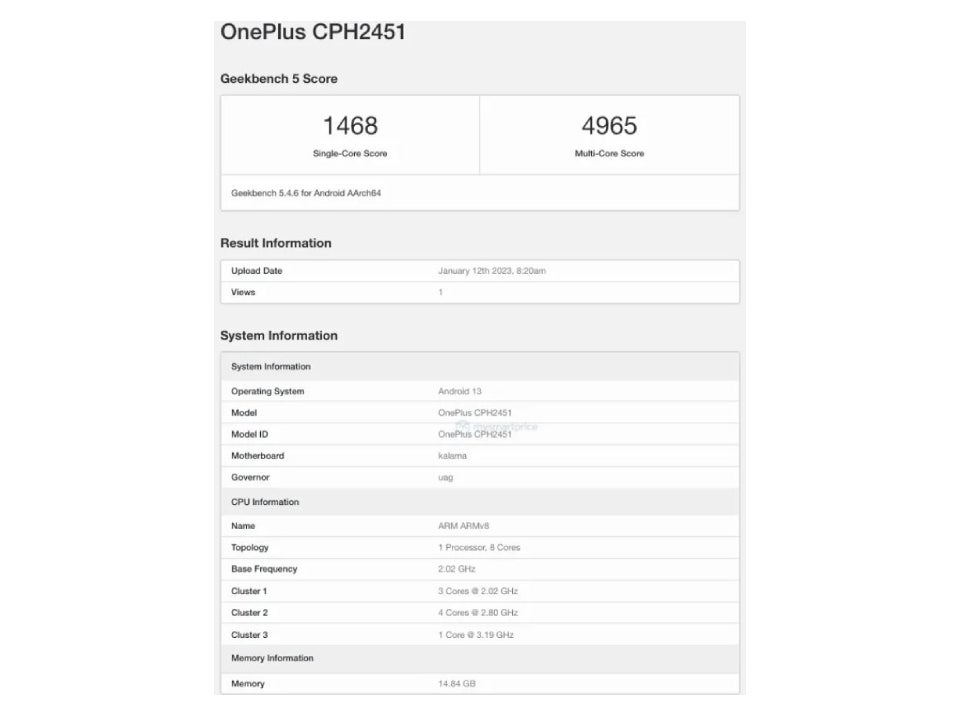 The OnePlus 11 global variant Geekbench scores, as presented by MySmartPrice.
Let's start with one of the most impactful specs. From the listing, the OnePlus 11 seems to have retained the 16GB from its Chinese counterpart. If this is indeed pointing to a model that is planned to reach the US, that would make the OnePlus 11 the second phone with this much RAM after last year's OnePlus 10T.
The spec list also confirms that the global release of the OnePlus 11 will be equipped with the Snapdragon 8 Gen 2. Given how much buzz was generated around the release of the latest Qualcomm chip, with peak clock speeds of 3.19GHz, that's not a shocker at all.
The last confirmation that we can gather from the Geekbench database is that the OnePlus 11 will come with Android 13 out of the box. This was expected, and we're likely to see it via OnePlus' staple Oxygen OS variant.
While Geekbench doesn't list off things like battery capacity and charging speed, we don't have reason to assume that the 5,000mAh battery of the OnePlus 11 is going to be bumped down. The aforementioned 10T was released with 125W fast-charging capabilities in the US and 150W globally, so OnePlus shouldn't have issues with bringing 100W charging to the OnePlus 11.
We're quite excited about getting our hands on the OnePlus 11 and seeing if all of these impressive numbers really make up a truly remarkable smartphone. We've got about a month left to wait, but that time is going to pass rather quickly now, as we no longer have to worry about the OnePlus 11 getting some unwanted spec swaps.