Ever since the day Huawei delivered a mainstream flagship phone with a periscope zoom lens, smartphone cameras were never the same! In fact, I was personally spoiled by the Huawei P30 Pro, which I still have and use.
To fast forward, today we have 2x, 3x, 4x, 5x and even 10x optical zoom cameras on phones like the upcoming Galaxy S23 Ultra. Also, phone-makers have found other innovative ways of zooming without loss of quality – through software, like the Pixel 7. However, phone zoom systems have always come with one compromise, which, of course, is the lack of granular control over optical magnification due to their fixed zoom lenses…
As every "real" photographer would tell you, variable, continuous magnification is where the real power of zoom lies, and it seems like 2023 might be the year for the next big breakthrough in phone cameras, or more precisely when it comes to zoom systems!
In fact, Sony already gave us a glimpse of the future last year, through the Xperia 1 IV, which had variable, continuous zoom (3.5 – 5.2x) but you could easily tell this was a first-gen attempt. Apart from the soft images produced by the latest Xperia flagship, roughly 3-5x optical zoom range doesn't seem to deliver much greater flexibility compared to what some companies are able to achieve through software.
Well! Now, rumors from Weibo, (China's equivalent to Twitter/Facebook) say that Sony might be ready to surrender and switch to using LG-made camera tech for the new zoom solution on the Xperia 1 V, expected to launch later this year!According to various sources, and LG Innotek's own claims, the LG-developed continuous zoom solution is far more compact and can offer better range, ticking a lot of boxes compared to Sony's current best. LG is partnering up with Qualcomm to deliver quick adoption of the new tech, which should be optimized to work with the brand-new Snapdragon 8 Gen 2 chipset, expected to power the new Xperia 1 V (and many more Android flagships).
LG Innotek (a subsidiary of LG Display) designs, manufactures and sells electronic materials, components and devices to a number of popular companies that make consumer electronics, and one of them happens to be… Apple. That's right – Cupertino's South Korean partnership doesn't boil down to displays.
According to fresh leaks from multiple sources, Apple will be working with LG Innotek (amongst other camera hardware providers), to bring a new zoom system to at least one new phone from the upcoming iPhone 15 series. And here's what I think (and I hope) might be Apple's grand plan for the camera of what might be the first "Ultra" iPhone…
iPhone 15 Ultra's new zoom system – there are many great reasons for Apple to use LG's brand new continuous optical zoom camera (hopefully, it's not too early!)
Heads up! This is just an educated guess on my part, and perhaps even wishfulthinking but here are my arguments as to why the iPhone 15 Ultra should and could deliver a new camera system (made by LG) with focus on zoom like no other…
We already know that at least one new iPhone 15 model will feature a new zooming solution of the periscope variety, sourcing hardware from LG Innotek
I find it highly unlikely that Apple will (ever) make an iPhone with more than three usable cameras, and if that's the case, the only logical outcome is that Tim Cook & Co would kill the 3x zoom lens and replace it with a variable, continuous zoom camera, instead of a fixed, long-range zoom shooter
Apple's general philosophy of "slow (but polished) hardware upgrades" is another hint as to why Cupertino might've wanted to wait until the right periscope zoom solution for the iPhone 15 Ultra comes along
Unlike Android, Apple focuses on delivering optical zoom quality videos too, and achieving that would be possible only if Cupertino used LG's new periscope zoom hardware
iPhone 15 Ultra with LG's new periscope zoom technology – what would it be able to do?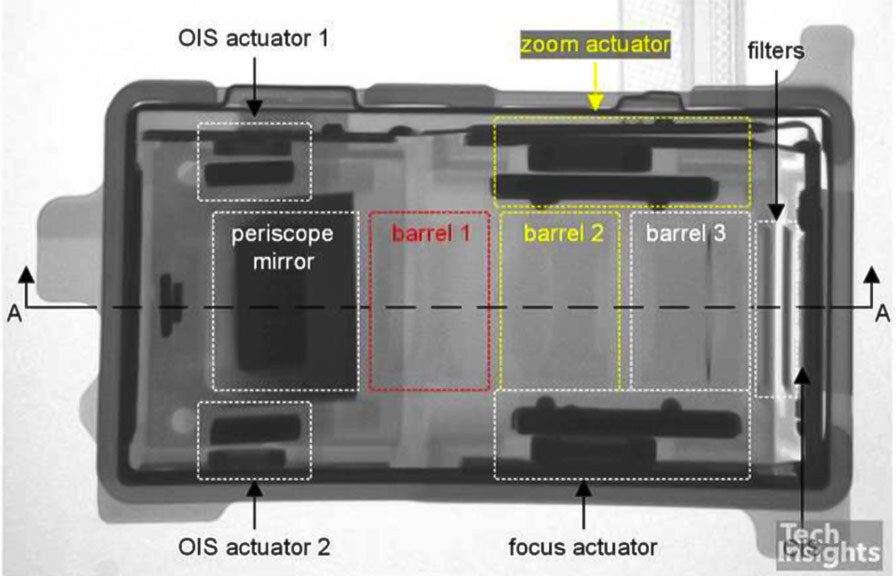 LG's groundbreaking optical zoom system includes optical stabilization, which is of paramount importance if you want to take blur-free zoom photos. When it comes to the moving parts, the module uses a a very precise actuator to move lens elements for zooming.
What we know from LG Innotek is that the company's new variable, continuous zoom camera solution is able to deliver roughly 4-9x magnification. LG's groundbreaking optical zoom system includes opticalstabilization, which is of paramount importance if you want to take blur-free zoom photos. When it comes to the moving parts, the module uses a a very preciseactuator to move the lens elements, creating what we know as "optical zoom".
A 4-9x optical zoom range sounds appealing, as it would eliminate the need for two separate zoom cameras (think of the Galaxy S22 Ultra, which uses two different zoom shooters, fixed at 3x and 10x).
So, Apple might be cooking up the world's first 1-10x variable zoom camera system on a phone (of course, unless it's too early for this tech to be fitted into the iPhone 15 Ultra). If you're wondering how a 1-10x "variable zoom system" would be made possible, the iPhone 14 Pro is already able to reach 2x optical-quality zoom via sensor-cropping, which means the only zoom gaps needed to be filled would be in the 2-4x range as well as anything beyond 9x, which is where LG's new camera draws the line…
The way Apple could achieve lossless zoom in the 2-4x zoom range would be to:
Utilize the power of the new 3nm A17 Bionic chip in iPhone 15
Crop further into the 48 megapixels of the iPhone's primary camera and use that information for longer-range lossless zoom
Fill the gaps left with data from the rest of the sensors – the new zoom camera or even the ultra-wide-angle lens (which we've seen on Huawei phones)
If Apple and LG really pull this off, it would be a real "flex" on Samsung and the rest of the Android world, as it would only prove Cupertino is "slow but better" at delivering certain features. Again, an example for that is the iPhone 14 Pro's 2x lossless zoom which is the best-quality solution of its kind, despite arriving years after Android discovered it.
However, the greatest strength of Apple's software and hardware seems to be that iPhone is able to apply sensor-cropping to video too, which has never been achieved by an Android device. That's why 2x zoom videos on my iPhone 14 Pro have optical quality, which isn't the case on my Pixel 7 Pro.
If things pan out, Apple might market the new zoom system on iPhone 15 Ultra as "20x optical zoom range" (thanks to the ultra-wide-angle camera's reach).
"iPhone Ultra" instead of iPhone 15 Pro Max – Apple's next "One More Thing"?
The last reason why Apple might want to give iPhone Ultra superpowers is because I believe Tim Cook & Co could present the most expensive new iPhone as a "One More Thing"… thing.
Historically, the "One More Thing" announcement has been reserved for "unexpected" hardware, and an iPhone Ultra with bigger screen, battery, and (hopefully) a noticeably more advanced camera system than its smaller iPhone 15 Pro brother, seems deserving of this honor, made iconic by the late Steve Jobs.
But we're not stopping there. We do have one more thing. We have great respect for these words, and we don't use them lightly. Our teams have been hard at work for years on something that is important to all of us – the future of the smartphone. The first iPhone revolutionised a decade of technology and changed the world in the process. Now, 10 years later, it is only fitting that we are here, in this place, on this day, to reveal a product that will set the path of technology for the next decade. This is iPhone X. It is the biggest leap forward since the original iPhone.
Tim Cook announcing the iPhone X – Apple's last "One More Thing", for now…
The fact that iPhone 15 Pro isn't expected to gain new optical zoom hardware might be another hint that the new "Ultra" iPhone might be Apple's "One More Thing". If Cupertino was to pull it off (read: deliver an iPhone Ultra with 1-10x variable optical zoom for photos and videos), then this surely deserves to be celebrated properly, as one of the biggest advancements in the history of smartphone cameras! Unless, of course, the groundbreaking zoom tech is reserved for Apple's iPhone 16 flagship…
Also, how about an "iPhone Ultra"? No 15. Why not!