Hidden code discovered by 9to5Google in the latest version of the Google Photos app (version 6.20) reveals a possible change to the app that will always show RAW photos in the main feed no matter how the Backup toggle is set. Currently, RAW photos shot on Pixel and other Android devices create a RAW file that by default has the Backup toggle disabled. That's because RAW image files are larger and will take up more space when backed up in the cloud.
RAW images are uncompressed and could be considered a "digital negative" that shows an image directly from the sensor on your phone before it has been processed. As a result, RAW images are not polished and usually require further processing to reach their potential. But with a RAW image, you can be creative when it comes to your own editing process.
Strings of code reveal Google's plan to always show RAW images on the Photo app's main Photos feed

Since RAW photos are not stored in the cloud, you currently won't see them in the main photos feed on the Android version of the Google Photos app. But a hidden string of code reveals a change to this as it shows the phrase "You can now access the RAW photo here" that could soon surface on the app. And based on other strings of code discovered, even if Google Photos Backup is disabled, RAW photos will appear in the app's Photos view.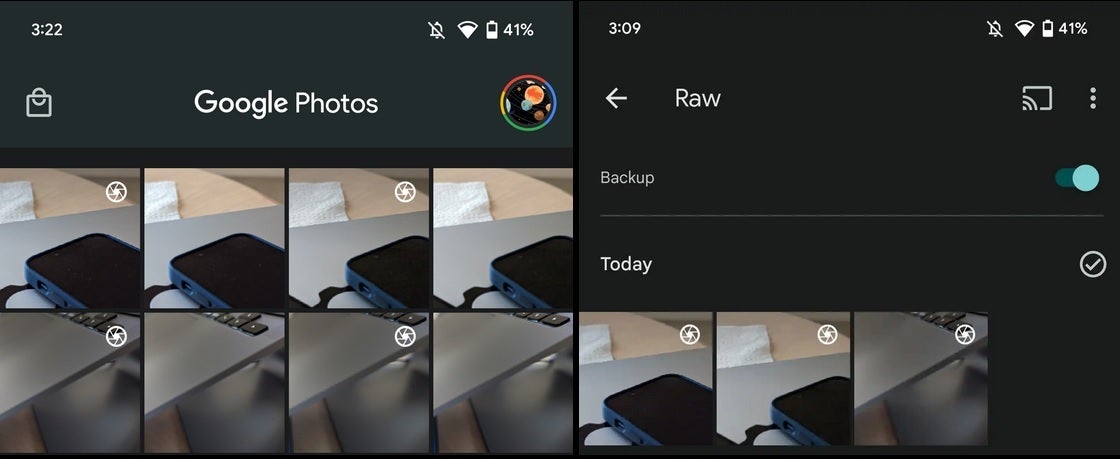 RAW images in the Google Photos app's Today setting. Image credit 9to5Google
Another string shows that with Backup enabled but RAW folder upload disabled, RAW images will be uploaded anyway. As 9to5Google points out, with the aforementioned settings the string of code with the phrase, "New RAW photos will appear in the Photos view and will now be backed up" doesn't make sense unless the word "now" should have been "not." Either way, RAW images should appear in the Photos view.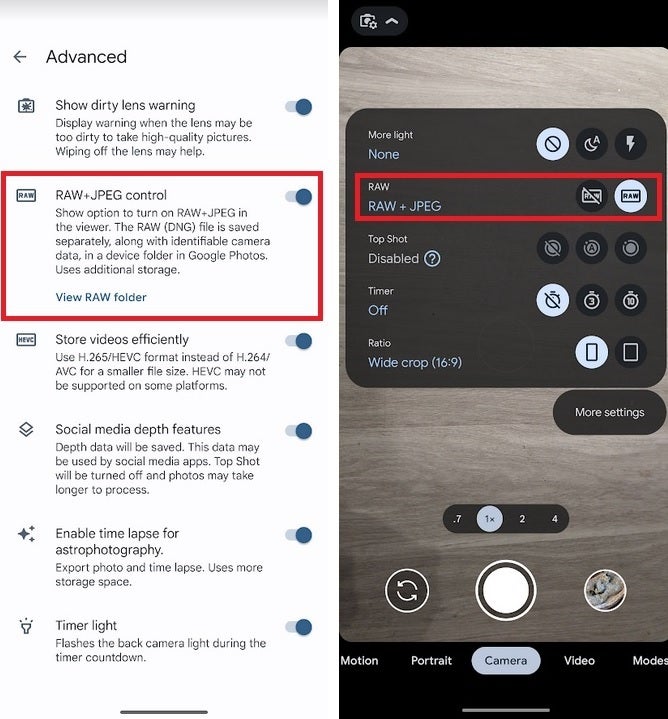 How to shoot using RAW on a Pixel 6 or 7
While Google has not finished pushing out the update to version 6.20 of the Google Photos app, those who have received it do not have RAW images on their feed which could indicate that Google will need to flip the switch on a server-side update to add the new feature to the app. If for some reason the Google Photos app is not available on your Android phone, it can be downloaded and installed from the Google Play Store.
How to take RAW images using your Android phone

To take RAW images on your Android phone, open the camera app and tap the gear icon in the upper left corner. Tap More settings > Advanced and toggle on the RAW+JPEG control. As Google notes, "The RAW (DNG) file is saved separately, along with identifiable camera data, in a device folder in Google Photos." Doing this will require the use of additional storage.
Once the RAW+JPEG setting is toggled on, with the camera drop-down menu showing, you can tap on RAW to receive both RAW and JPEG versions of your photos. And if you don't want to have your storage consumed quickly, do not arrange to back up RAW images in the cloud. Keep in mind that for RAW images to appear in the Google Photos app's feed, you have to be shooting in RAW. Make sure that if this is what you want, you have the settings enabled as described above.
Also, while the hidden code strongly suggests that Google is going to rollout this feature, there is always the chance that it decides not to go ahead with this change.
Now that we are wrapping up this story, here's a trivia question. What was the first smartphone to support RAW? No, it was not the iPhone. Actually, the Nokia Lumia 1520, which was released back in 2013, was the first smartphone to capture images in the RAW format. The Windows Phone handset was equipped with a 20MP rear camera sensor.