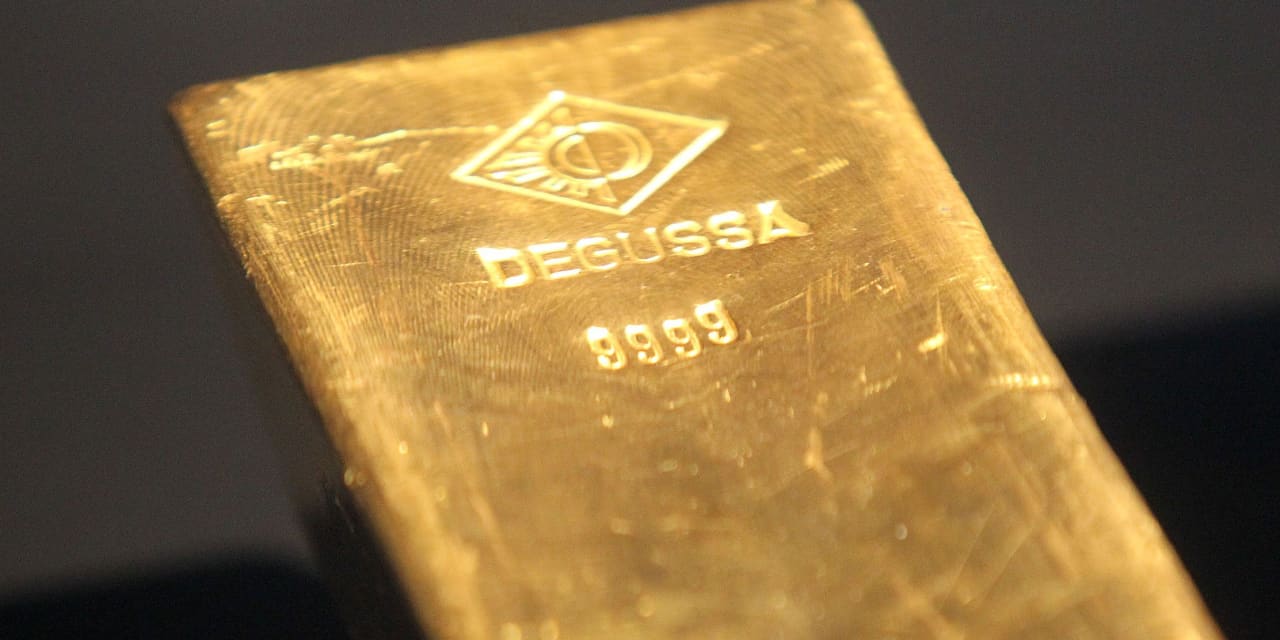 Gold futures ended lower Thursday, giving up early gains as prices failed to hold above the $1,900 level amid hawkish commentary on interest rates from some Federal Reserve officials.
Traders waited for more U.S. inflation data next Tuesday for guidance on the next move for the precious metal, market analysts said.
Price action
Market drivers
Gold prices gave the gains seen early Thursday to finish with a loss.
Gold prices are "trying to ride the choppy waters that represent waves coming from multiple directions," with investors trying to "find the key to what is going to drive prices either way," said Adam Koos, president of Libertas Wealth Management Group.
He pointed out that weekly U.S. jobless claims released Thursday came in higher than expected, but the monthly U.S. jobs data, which came out late last week, was much stronger than expected.
"The anxiety produced by this opposing force causes the dollar to climb immediately afterward, as fear rips through the markets about the possibility that the [Federal Reserve] may have to increase rates more than expected," Koos told MarketWatch. "Gold's short-term prices suffer as the black sheep in this pond of economic chaos."
"" Gold's short-term prices suffer as the black sheep in this pond of economic chaos." "
— Adam Koos, Libertas Wealth Management Group
The ICE U.S. Dollar index DXY, +0.04% fell 0.2% to 103.17 in Thursday dealings, but still trades around 1% higher for the week. Treasury yields were mixed, with the 10-year Treasury note yield TMUBMUSD10Y, 3.676% up modestly, but 30-year note yield moving lower.
Meanwhile, Chintan Karnani, director of research at Insignia Consultants, said "profit taking came" to the gold market after April gold futures on Comex did not hold above $1,900.
Fed Chairman Jerome Powell and other Fed members' comments on rising interest has "prevented short term aggressive buying in gold," he said.
Gold looks set to tread water near the $1,900 per ounce level as traders await a reading on U.S. January consumer-price inflation due out next Tuesday.
"Gold looks like it will consolidate here until we get beyond the Valentine's day inflation report," said Edward Moya, Senior Market Analyst at OANDA, in a note to clients.
Moya blamed hawkish commentary from New York Fed President John Williams on Wednesday for helping to hold gold back from the $1,900 per ounce level, where most-active gold futures were trading as recently as last week.
The U.S. January CPI report is due out Tuesday. After months of inflation falling more quickly than economists had forecast, some traders of inflation-linked products are betting that the headline rate could fall as low as 2% in the coming months, a level that would put it in line with the Fed's target.
The "real focus" will be on the January inflation numbers, said Karnani.
"If inflation falls substantially in January, will the [Fed] stop increasing interest rates after March or make a change in interest rate strategy? This is what I and traders will be the looking at," he said. "At the end of the day, inflation control is the key motto for the [Fed] and all central banks."