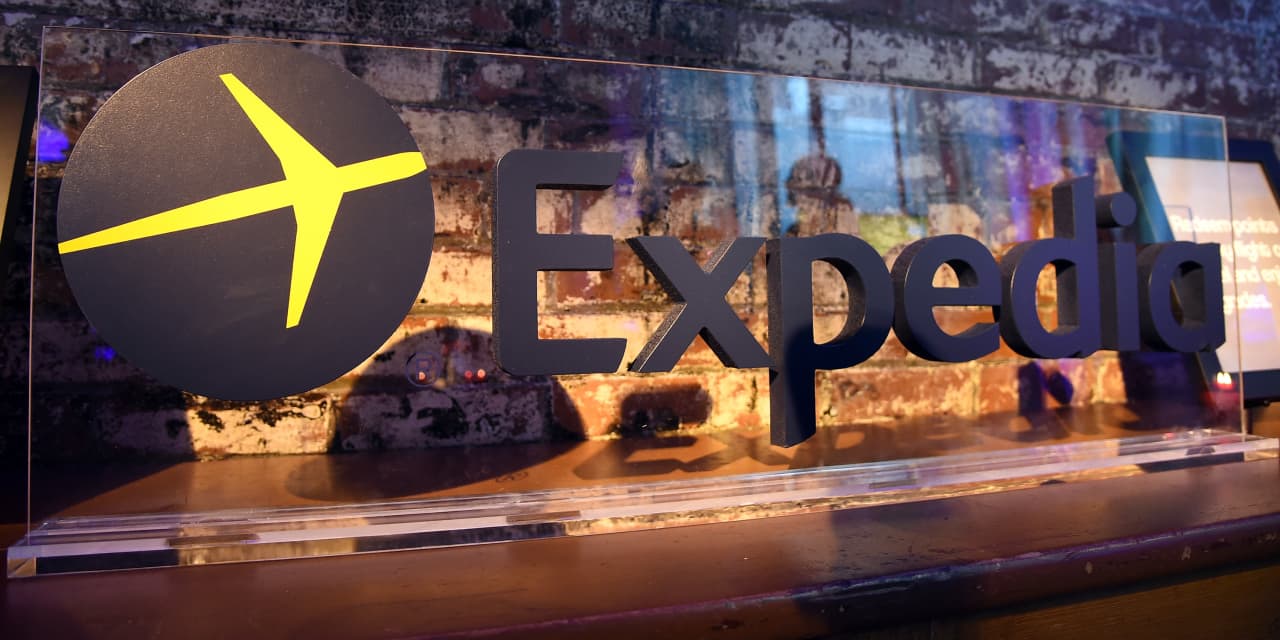 Shares of Expedia Group Inc. sank after hours on Thursday after the online travel-booking platform reported fourth-quarter results that missed expectations, as solid demand ran into harsh weather — although management said trends had improved since.
The online travel-booking platform reported fourth-quarter net income of $175 million, or $1.11 a share, compared with $395 million, or $1.70 a share, in the same quarter in the prior year. Revenue climbed 15% to $2.62 billion, compared with $2.28 billion in the prior-year quarter.
On an adjusted basis, Expedia EXPE, -1.21% earned $1.26 a share, compared with $1.06 a year earlier.
Gross bookings were $20.51 billion, up 17% from the same quarter in a year earlier.
Analysts polled by FactSet expected Expedia to report adjusted earnings per share of $1.71, on revenue of $2.69 billion. They expected gross bookings of $20.96 billion.
For the first quarter, those analysts expect Expedia to earn 22 cents a share, on sales of $2.66 billion. For the full year, they expect earnings per share of $9.43, with revenue of $12.74 billion.
"While our Q4 results were negatively impacted by severe weather, demand was otherwise strong and accelerating, and has been markedly stronger since the start of the year," Chief Executive Peter Kern said in a statement.
He added that Expedia had begun the year with "record app usage and member counts, led by Expedia U.S."
Shares immediately fell more than 7% after hours, but closed the extended session down just 2.3%.
Expedia reported after an epic post-lockdown rebound in travel demand ran into higher prices, concerns about the economy and outdated, overwhelmed scheduling technology at Southwest Airlines Co. LUV, -1.27% that led to thousands of flight cancellations in December. Against that backdrop, Wall Street has tried to gauge how much momentum the past year's travel boom has left.
Some analysts have grown more concerned about the state of travel demand. In recent months, Citigroup analysts have downgraded hotel chains Hilton Worldwide Holdings Inc. HLT, +2.39% and Marriott International Inc. MAR, +0.51%, while Wolfe Research downgraded Expedia and other travel-booking sites.
However, Oppenheimer analysts upgraded Expedia last month, saying online-travel booking trends "remain robust on pent-up demand and a resilient consumer." And they said they liked Expedia's efforts to cut costs and improve customer service, as well as moves to combine Expedia's other brands into one loyalty program.
Those brands include Orbitz, Travelocity, Hotels.com and Vrbo, which allows people to rent out their homes to travelers. The Oppenheimer analysts said growth could slow at Vrbo, as travelers resume pre-pandemic habits, after COVID-19 boosted demand for alternative accommodations.
Shares of Expedia have tumbled 40.3% over the past 12 months. By comparison, the S&P 500 Index SPX, -0.88% has fallen 11.1% over that time.