With billions and billions of transistors inside chips, the job of etching circuitry patterns thinner than human hair onto a silicon wafer belongs to the extreme ultraviolet (EUV) lithography machine. The size of each EUV lithography machine is about equal to that of a school bus and each one carries a price tag of $150 million. Right now, only one company in the world produces these machines and that is Dutch firm ASML.
Huawei recently filed a patent application to protect its own EUV components

A report published Friday by Dutch newspaper Het Financieele Dagblad and cited today by Reuters says that the Dutch defense ministry advised the government not to allow any of the most cutting-edge lithography machines to be shipped to China. The information was obtained by the newspaper via the country's Freedom of Information act.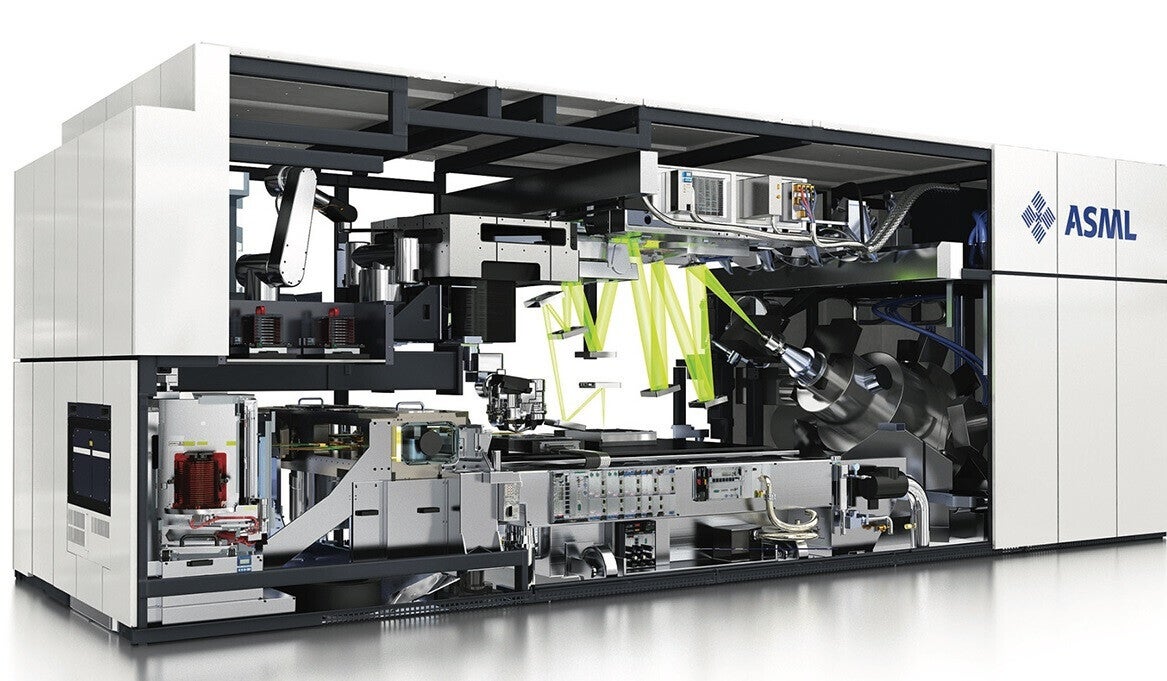 ASML is banned from shipping EUV machines to China
The advice sent to the foreign ministry said, "From the perspective of the Dutch military and security interests in the mid-to-long-term it is of importance … that ASML not be granted any export permit for the delivery of EUV machines to China and that this unique technology be protected as much as possible." ASML has not shipped one EUV machine to China which is why SMIC, China's largest foundry, is several generations behind the 3nm chips currently being produced by TSMC and Samsung Foundry.
This might change, however. Huawei, banned from obtaining cutting-edge chips by U.S. export rules, recently filed a patent application for EUV components. It isn't clear whether Huawei has the capability to build its own EUV machine, but if it is awarded the patents, China could end up developing its own EUV allowing the country to manufacture cutting-edge chips.
The U.S. revised its export rule in 2020 to prevent foundries using American technology to make chips from sending such chips to Huawei. At the time, Huawei was TSMC's second-largest customer after Apple. For last year's Mate 50 flagship line, Huawei got permission to use Snapdragon chips but only after support for 5G was disabled. The P60 series, rumored to be unveiled in March, will reportedly use the Snapdragon 8+ Gen1 chips, again, with 5G support disabled.
The U.S. export rule change was a big blow to Huawei and prevented the company from obtaining chips that its own semiconductor unit, HiSilicon, designed.
The story in the Dutch newspaper was published just as the Dutch government has been weighing the placement of additional restrictions on China that would further limit sales from ASML to the country. Currently 15% of ASML's top line comes from sales to China.
This past October, the U.S. added additional restrictions on the export of chip-making gear to China, and the Netherlands are expected to follow suit. Dutch Prime Minister Mark Rutte said last week that he expects to have a "good outcome" from discussions with the U.S. after meeting with U.S. President Joe Biden in Washington D.C.
The fear is that China will use cutting-edge chips to build weapons

However, Dutch trade minister Liesje Schreinemacher says that she will not simply copy U.S. rules. "I know there's a lot of pressure internationally but I will be fighting for open trade and against protectionism," she said.
The letter from the Dutch defense ministry warning the government about allowing EUV sales to China said, "The chance that a NATO member state in the future must defend itself against independently produced weapons systems would become much larger if EUV machines are exported. In addition, our most important strategic security partner, the United States, has made an urgent appeal to the Netherlands not to export the EUV technology to China."
The fear isn't that Huawei will be able to access chips to produce smartphones more powerful than the iPhone. The concern is that China will use cutting-edge chips to help it build powerful weapons that can be used by the Communist Chinese government.