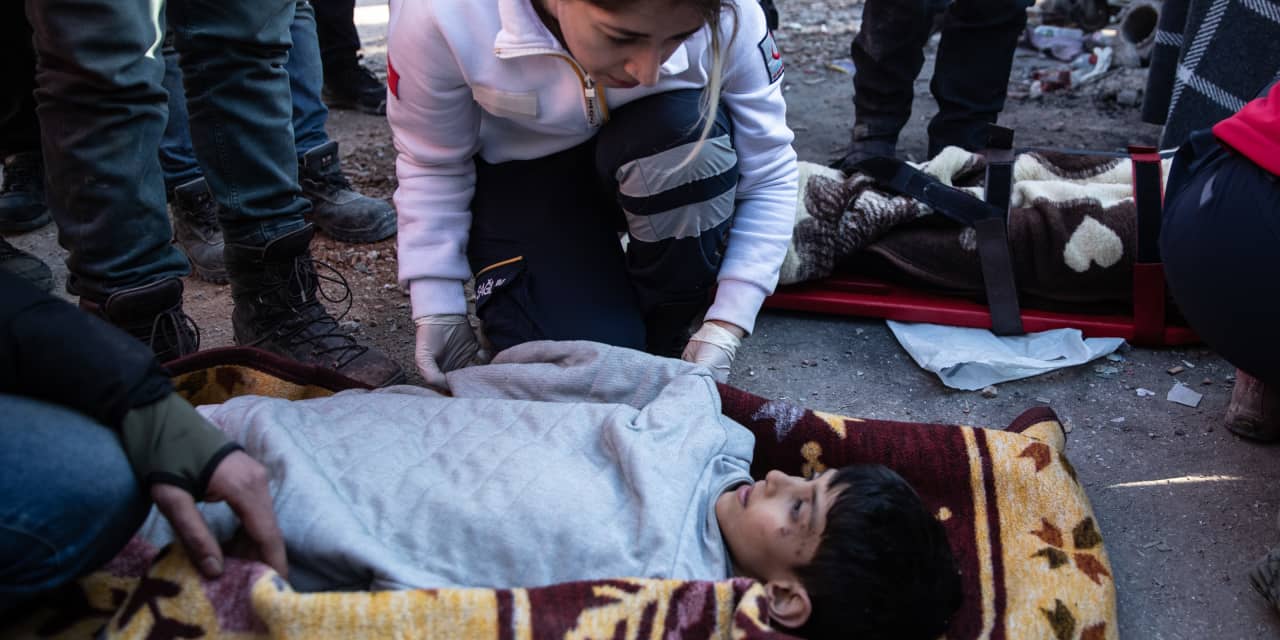 Online mega-retailer Amazon and a prominent Turkish CEO are among those sending aid to victims of the earthquake in Turkey and Syria.
More than 21,000 people have died and tens of thousands were injured following the 7.8-magnitude earthquake that struck Turkey on Feb. 6. Turkish President Recep Tayyip Erdogan called the quake the "disaster of the century," the Associated Press reported. 
About 13.5 million people live in the area devastated by the quake, including some in Syria, where residents have already been coping with an ongoing civil war.
International aid groups such Direct Relief and Médecins Sans Frontières have deployed teams to the area, and some companies have started to respond to the crisis as well.
Amazon AMZN, -1.81% is sending $500,000 in cash donations to groups including the World Food Program, Save the Children, UNICEF, Red Crescent, AKUT Search and Rescue Association, and the AHBAP Foundation, the company said Thursday.
Amazon is also providing donations of products and "logistics support" in the area, it said. The company sent two truckloads of donated relief items from an Amazon fulfillment center in Istanbul on Feb. 7, bound for Hatay Province. Amazon opened the Istanbul fulfillment center, its first in Turkey, in September 2022.
"Amazon customers can help by donating through a new donations page on Amazon's Türkiye store," the company wrote in a blog post. "Within three hours of the page going live on Tuesday, customers had donated more than 5,000 items to help earthquake victims."
Amazon has put its logistics know-how to work in previous disasters. It opened a disaster relief hub in the U.S. in June 2021 to pre-position supplies that are often needed by humanitarian relief groups responding to disasters. The company activated the hub, which is in Atlanta, after Hurricane Fiona hit Puerto Rico, and to send medical supplies to hospitals in Ukraine after Russia's invasion.
Aid groups working in Turkey and Syria will also get a boost from Hamdi Ulukaya, the CEO and founder of yogurt brand Chobani. Ulukaya, a native of Turkey, pledged to donate $1 million to the Turkish Philanthropy Funds, and said he will match up to $1 million in additional donations to help people affected by the disaster. "Our brothers & sisters in #turkey and region desperately need our help," Ulukaya said on Twitter.
The charitable arm of Sweden-based furniture retailer IKEA is also sending aid in the form of a 10 million Euro donation to Médecins Sans Frontières (equivalent to about $10.7 million). "Our hearts and thoughts go out to all those who are affected," said Per Heggenes, CEO of the IKEA Foundation. "I call on the world's governments, businesses, and philanthropies to join us in the relief support for Türkiye and northern Syria."
See also: End of AmazonSmile charity donations 'could not come at a worse time' for nonprofits